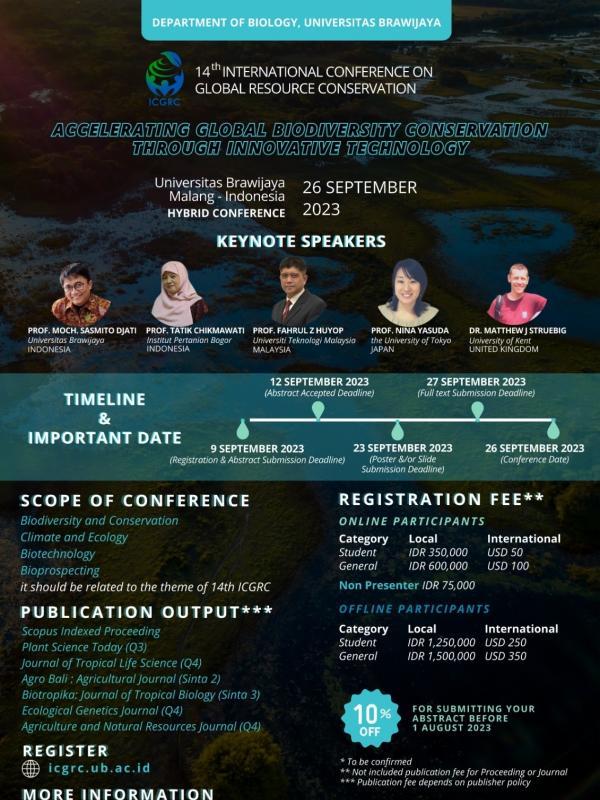 Seminar Internasional
Dear Colleagues,
Greetings and good news from THE 14TH INTERNATIONAL CONFERENCE ON GLOBAL RESOURCE CONSERVATION (ICGRC) 2023.
Department of Biology, Faculty of Mathematics and Natural Sciences, Universitas Brawijaya is proud to announce that we will organize the 14th International Conference on Global Resource Conservation (ICGRC) 2023. Theme of the conference is Accelerating Global Biodiversity Conservation through Innovative Technology.
We are pleased to invite you to participate in the 14th ICGRC 2023. It is scheduled for September 26th, 2023 on Hybrid Conference. The conference will include presentations from plenary speakers, discussion in plenary sessions, and presentation (oral and poster session) of original research results related to but not limited to [1] Biodiversity and Conservation, [2] Climate and Ecology, [3] Biotechnology, and [4] Bioprospecting.
We are excited to announce that the abstract submission deadline is September 9th, 2023. Please, open the
https://cosy.akademisi.co.id/registration.php?conf=icgrc
for registration.
The presented and qualified articles will be published in international reputable indexed proceeding (Atlantis Press) or scientific journals.
Sincerely yours,
The 14th International Conference on Global Resource Conservation (ICGRC) 2023
Secretariat of the 14th ICGRC 2023
Department of Biology, Faculty of Mathematics and Natural Sciences, Universitas Brawijaya
Email: icgrc.ub@gmail.com
Contact Person: +62896-5271-9321 (admin)
Website: http://icgrc.ub.ac.id
See Website
---
Event Dates
26 September 2023 08:00 - 17:00
---
Event Locations
Hybrid : Universitas Brawijaya and Online
Event Contact
Secretariat of the 14th ICGRC 2023
Department of Biology, Faculty of Mathematics and Natural Sciences, Universitas Brawijaya
Email: icgrc.ub@gmail.com
Contact Person: +62896-5271-9321 (admin)
Website: http://icgrc.ub.ac.id
---